Granta sedan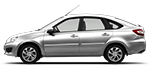 Granta liftback
Kalina hatchback
Kalina sw
Kalina cross
Vesta sedan
Vesta sw
Vesta sw cross
4x4 3 door
4x4 3 door tayga
4x4 5 door
4x4 3 door urban
4x4 5 door urban
OPEN MODELS
Lada 4x4 5 door Urban
NEW IMPRESSIONS
LADA 4x4 Urban – born to drive anywhere – across forest or along city streets.
Deep snow, thick mud, stones, streams, brushwood, sand ruts are just minor obstacles for this off-roader...With LADA 4x4 Urban you don't have to worry about street curbs, cut off asphalt and other "surprises" of the urban landscape. The challenging road is a way to show the best of LADA 4x4 Urban.
STYLE AND RELIABILITY
In fact, there is a metal base hidden under the LADA 4x4 Urban's plastic bumper, which means that LADA 4x4 Urban is the same ultimate off-roader, but with stylish design and comfort options added.
Upgraded chassis: improved stiffness, extended service life.
Wheel hub bearings with no need in adjustment.
Paint finish with cataphoretic priming brings the body's corrosion resistance to the upper level.
COMFORT
Space-saving design and excellent off-road performance is something we're looking for in the big cities.

Here we go - a special "urban" version - LADA 4x4 Urban. This off-roader now has air conditioning electric windows, body-color plastic bumpers – a stylish engineering solution to improve design and aerodynamics.

LADA 4x4 Urban stays the same 4WD vehicle with a reduction gear and inter-axle differential blocking.